Hello All Beautiful people!
Let's continue the conversation on the Valentine's Day Gift ideas. I've shared Part 1 of the Valentine's Day Gift guide, click here to learn more.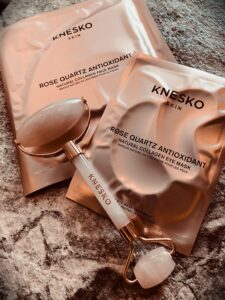 The second item on my gift guide is KNESKO SKIN's Rose Quartz Antioxidant Discovery Kit, sure to please any skin care enthusiast on your list. These revolutionary skincare products are made with GEMCLINICAL™ Technology, which uses precious gemstone particles that are doctor-formulated, all-natural and clean skincare ingredients in their collagen masks – for face and eyes to help rejuvenate your skin from the inside out.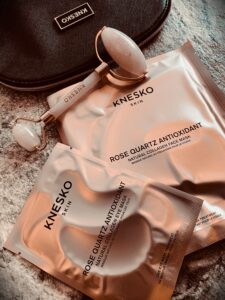 This Limited Edition Rose Quartz Antioxidant Discovery Kit includes:
1 Rose Quartz Antioxidant face mask
1 Rose Quartz Antioxidant eye mask
1 Rose Quartz Gemstone Roller
1 Limited Edition KNESKO Cosmetic bag
Rose quartz symbolizes universal love; it promotes greatest form of self-love and deeper compassion. Once on the skin, these collagen hydrogel masks release Reiki-charged energy of the rose quartz, so make sure you breathe deeply and relax.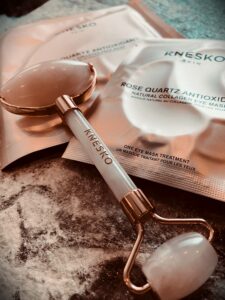 Made with five antioxidants and infused with Vitamin C, Vitamin E, White Tea Extract, Licorice Root, and Grape Seed Extract, the rose quartz collection is ideal to protect your skin from free radical damage caused by air pollution, smog and other environmental stressors.
The result: your skin feels bright, hydrated with lasting nourishment.
Pro Tip#1: Use the gemstone roller gently over your mask to ensure you get a maximum delivery of nutrients to the deepest levels of your skin.
Pro Tip#2: Place your collagen masks and rose quartz gemstone roller in the refrigerator for a cooling sensation, depuffing effect and to help minimize the appearance of large pores.
Doesn't the discovery set sounds wonderful? I think it's a sure winner for your beloved!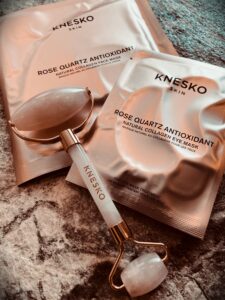 So what are you waiting for? Give the gift of love in the form of this sleek & luxurious skin care set to yourself or someone you love at an incredible price.
Use my code 'ARIANAXX' for an extra 15% off site wide at Kalosophie.
Wishing you all love & happiness in all 365 days!
Ariana Xx