I'm so happy to introduce this inclusive & affordable Canadian skincare brand called Auraiha, which focuses on 'skin-first' movement and uses superfood ingredients in all their products to help improve skin health, texture & appearance of your skin.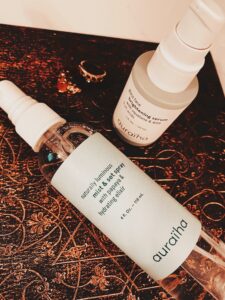 I admire their non-toxic, fragrance-free formulations for my acne-prone skin as they are crafted by chemists with over 20 years of clean beauty experience. All products are made in Canada, vegan, cruelty-free and suitable for sensitive, blemish-prone skin. More details on each product below: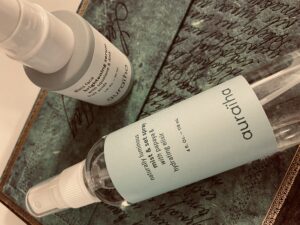 🌱 Glass Face Serum
I love glass skin effect and using this serum daily helps me achieve that radiant, glass-skin effect look. It's lightweight, absorbs beautifully into the skin and doesn't pill. I like using it in my pm routine so I can wake up to soft, radiant, glowing skin in the morning. Formulated with my favourite ingredients like squalane, AHA fruit acids, aloe, green tea & cucumber, this brightening serum will gently exfoliate the outermost layer of your skin to give you a glass-like finish. A must have!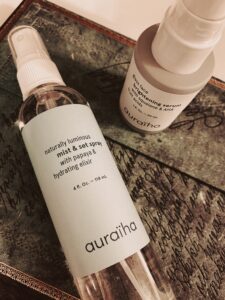 🌱 Naturally Luminous Mist & Set Spray
This has been my to-go refreshing mist since the day I got my hands on it. It feels hydrating and refreshes my skin for an even, natural glow. Infused with a powerful blend of papaya extract, witch hazel, cucumber extract and betaine which deeply hydrates and refreshes your skin. You can also use this mist to set your makeup. Now that's a win-win!
Which of these products grabbed your interest?
Available at Auraiha