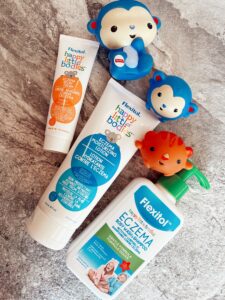 Do you feel your skin stretching and itchy as soon as we have a spike in our indoor heating system? If you answered 'Yes', that my friend is skin dryness. Extreme skin dryness or eczema usually triggers when the body feels too hot or too cold OR when it's not moisturized enough. Now that we are constantly inside our homes, our skin is more prone to heat dryness. You may feel the sudden urge to scratch your bodies.
Today I'm so excited to share Flexitol – an amazing Australian skincare brand developed by LaCorium Health, in Australia. They carry a wide range of effective and innovative skincare products made with the highest quality ingredients for the entire family to tackle skin dryness issues from head to toe. Thankfully, their products are now available in Canada.. Yay! I've tried some of their products and here's what I think about them.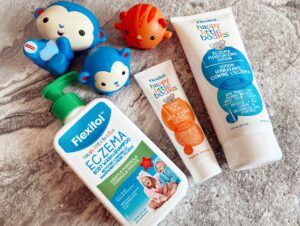 Happy Little Bodies
If you are a mom looking for a solution for your eczema-prone baby (aged 0-12), this line is for you. It includes three products to complete your child's daily skincare routine:
Eczema Body Wash & Shampoo
Eczema Relief Cream
Eczema Moisturizing Lotion
Being a mommy of eczema-prone toddler, I can relate how frustrating it might be to find the right products to calm your baby's dry, irritated skin from eczema flare-ups. I love that these products are gentle and made with natural ingredients including colloidal oatmeal which is known for its skin-soothing properties to calm itchy skin and scratchy rashes. Ever since following this full skincare routine, my baby is at ease. Thank you Happy Little Bodies; I love seeing all baby smiles again. Happy baby = Happy mama.
Now tell me.. Are you an adult with eczema or eczema-prone skin? Yes? No worries, I got you covered as well. Let's start from head-to toe product recommendations; you may find some of these products helpful for your dry skin conditions.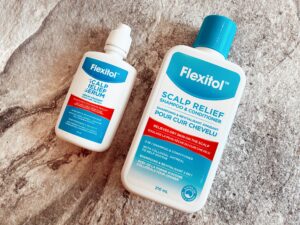 Scalp Care
For Scalp issues, try using Scalp Relief Serum and Scalp Relief Shampoo & Conditioner.
These steroid & tar free formulas are designed to moisturize, soothe an irritated, itchy scalp and other dry scalp conditions.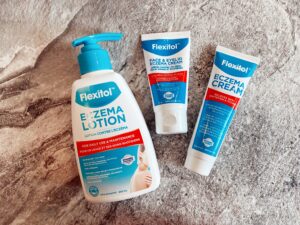 Eczema Prone Skin Care line
Just like Happy Little Bodies, the Eczema Prone Skincare line for adults is also very gentle and comforting on the skin, especially designed for suffers of eczema and dermatitis. The combination of these products provides long-lasting moisture to my dry stretchy skin and keeps the itchiness at bay. The cream version is thicker than the lotion if you need extra love & moisture for your dry skin.
This adult eczema skin care line includes:
Face & Eyelid Eczema Cream
Eczema Cream
Eczema Lotion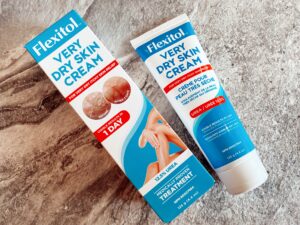 Very Dry Skin Care
If your skin is extremely dry, you may love this Very Dry Skin Cream. It's very rich in texture compared to their other products and also very hydrating. This cream is my quick fix for any extreme dry spots on my skin and body. It can be used 2-3 times a day if needed.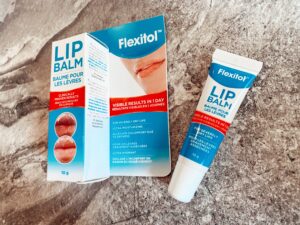 Lip Care
I'm a fan of lip balms! Flexitol's lip balm is a perfect solution for those severely dry and chapped winter lips. There's nothing like a soft pout after all! 😉
Whether you are an adult or have kid(s) with any dry skin conditions, I highly recommend you to try Flexitol skincare line.
Flexitol products are now available for purchase at Amazon.ca