I got so excited when this prestigious brand asked me to try their new product launch.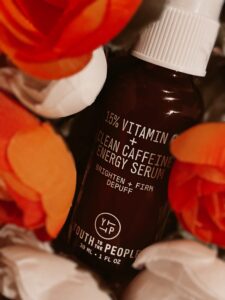 I love Youth To The People skin care products and have incorporated their new 15% Vitamin C + Clean Caffeine Energy Serum in my morning routine and I must confess I'm in love with how brightened and firm my skin looks. Even the days when I'm tired and sleepy, it helps wake up my skin. I love this "look good" feeling 😎.
This energy serum has a beautiful light texture that easily glides & sinks into the skin and layering my other skin care products on top is a breeze. Also, I love it's beautiful natural citric scent.
A best in class vitamin C serum boosted with clean, plant-derived ingredients that outperforms. It helps reduce hyperpigmentation, depuff, firm and brightens the skin.
It's a bit on the pricier side but I highly recommend you to try it if you haven't already. It's worth every penny especially when I see the fine lines on my forehead and dark spots fading. Think of it like a mini facelift! I've already got myself a refill as I'm about to finish my first bottle.
Can we tell I'm obsessed? 😍