~ Start Low & Slow ~
Do you find yourself in pain and looking for an effective solution? Try these high-quality & best selling broad-spectrum cannabinoids-rich health & wellness products by ACTIVE RELEAF. Based in Vancouver, BC, ACTIVE RELEAF is plant-based wellness company whose products are all natural, THC free, third-party lab tested and made in Canada.
I use a combination of these products as a preventive measure to help eliminate inflammation from occurring and lead a healthy lifestyle.
Why should you take ACTIVE RELEAF? It may serve as your next great solution to treat inflammation, sleep complains, headaches, migraines, joint pains, sore muscles, digestive complains and anxiety. More details on each product below: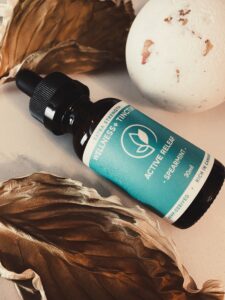 Wellness+ Tincture – Spearmint
This is an internal oral remedy. All I do is take one dropper a day as suggested to maintain my healthy, pain-free lifestyle. Formulated with natural ingredients, highest concentrations of high-quality broad-spectrum cannabinoids-rich hemp plant extract and coconut MCT oil, this tincture has a mild spearmint taste, and it's really easy to consume. The Wellness Tincture comes in three different formulas (original, extra strength & maximum strength) and flavours to choose from, to achieve a healthy mind and body.
Pro Tip: Take half to full dropper under the tongue for best absorption, let it sit for 30 sec and swallow. It can be used 1-2 times daily as needed.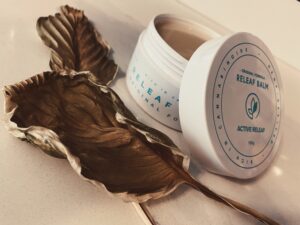 Releaf Balm
Looking for a topical inflammation treatment? Try the best selling Releaf Balm infused with broad-spectrum cannabinoids, essentials oils, cocoa butter and beeswax with effective anti-inflammatory & pain-relieving properties. It has a light texture that's easy to work with and melts into the skin providing a cooling sensation. It comes in two different formulas: original and extra strength. This topical treatment works great for minor pains to keep it in control.
Pro Tip: As a beginner, I suggest you go with the original formula with 300mg of cannabinoids, and work your way up if needed.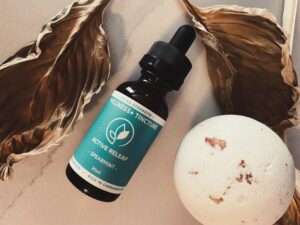 Bath bomb
Just smelling the beautiful bath bomb rose scent itself is so healing. Imagine the benefit of soaking in this goodness infused with real rose petals – I love it. Made with broad-spectrum cannabinoid-rich hemp plant extract (50mg), coconut oil, Epsom salts, and essential oils, these bath bombs are great to moisturize, relax and soothe your mind & body. Also, my skin feels so soft. Available in 4 different scents.
Pro Tip: Take a 15 min bath before bedtime for a relaxing sleep.
I highly recommend their products! 🙂
Use my exclusive time-sensitive coupons for your next purchase at ACTIVE RELEAF.
Use both coupons at the same time – for free shipping and 15% off your order.
ARIANA15 for 15% off sitewide. Valid until July 15th.
1STFREESHIP for free shipping on your first order.
Disclaimer: Please note, treatment time and results varies from person to person.