Argan Oil is long known for its wide array of health and beauty benefits. It has been a culinary staple in Morocco for centuries. However, not all argan oil products are created equally, Beauty Nut's 100% NUTS Pure Argan Oil is cold pressed to protect the integrity of the oil and is handpicked by local women's cooperatives in Morocco, making it completely Goat Free.
Beauty Nut carries a great selection of high-quality beauty essentials with 100% Organic Argan and Prickly Pear Seed Oil infused products from head-to-toe. Keep reading to learn more about my favourite self-care essentials I love using from Beauty Nut's collection.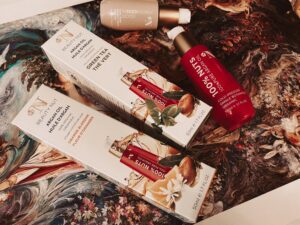 100% Pure Argan Oil – Original, Green Tea and Orange Blossom
Original – Organic, cold-pressed original formula can be used on the skin, hair and body to hydrate, strengthen, protect and boost skin health without the greasy look. It helps against sun damage, regulates excess oil on the skin, and treats skin conditions giving it a smoother look, even complexion and a youthful appearance.
Pure Argan Oil with Green Tea – use if you suffer from dry skin, skin redness, dullness and need an extra dose of hydration to rejuvenate your skin and combat the look of a dull complexion from harmful environmental aggressors. Smells heavenly!
Pure Argan Oil with Orange Blossom – use if you have combination skin, uneven skintone, inflammation and need hydrated skin. It absorbs beautifully into the skin and smells refreshing.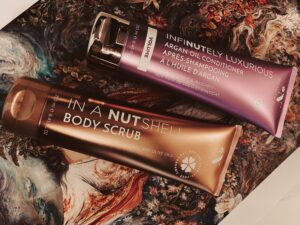 In a Nutshell Body Scrub
Leave your skin luxuriously soft & velvety with this high-quality body scrub that moisturizes, nourishes and gently exfoliates dead skin cells without irritating skin. Made with 100% pure argan oil, shea butter, and walnut shell powder.
Infinutely Luxurious Argan Oil Volumizing Conditioner
A must for anyone looking to nourish their hair from roots to ends. Use this hair conditioning treatment for super soft and shiny hair. It's infused with coconut, avocado and argan essential oils. I'm obsessed with my smooth, shiny hair.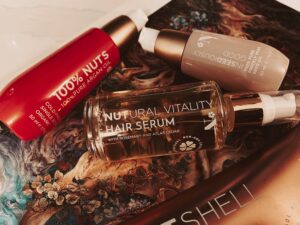 Nutural Vitality Hair Serum
Infused with 100% pure argan oil, 100% pure prickly pear oil, rosemary and cedar atlas essential oils. Rosemary and Atlas Cedar Oil help make hair stronger and less prone to breakage, while the other natural oils help protect and restore shine. I love this all natural, lightweight, non greasy formula.
Inseediously Good 100% Pure Prickly Pear Seed Oil
Rejuvenate your skin with this all natural and 100% pure prickly seed oil to reduce signs of aging and boost cell renewal. It's packed with essential nutrients and vitamins; Prickly Pear Seed Oil is nature's answer to fight against pre-mature aging and helps with reducing the appearance of fine lines. It's non-greasy formula which absorbs nicely into the skin, leaving it with a natural glow.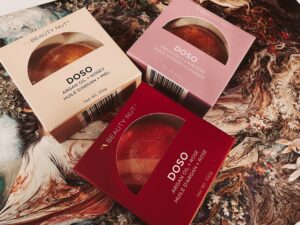 Doso – Cleansing Soaps
Cleanse, hydrate and calm your skin with these moisturizing cleansing soaps infused with beautiful scents. It has a light lathering formula which will leave your skin feeling smoother and softer with every use. Pick your favourite doso scent for a soft, hydrated cleansing treatment. Featured here are Rose, Lavender and Honey Doso.
Which of these 100% Pure Argan Oil products are you going to try next?
Available at Beauty Nut