~ My top luxurious hair essentials to minimize frizz and hair breakage ~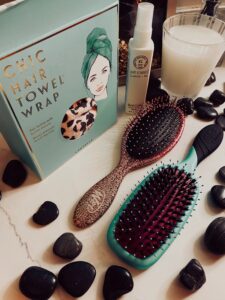 Louvelle Hair Wrap
Turn your daily bathing ritual into a luxury indulgence. Chic Hair Towel Wrap is a luxurious & chic hair turban in my favourite cheetah print with button closure. It gently soaks the excess water and minimizes frizzy hair. My hair feels noticeably softer overtime with continuous use. No wonder it's being loved around the globe by Beauty Editors. Don't blame me if you see me walking in my hair turban all day, it's so stylish and gives me such Hollywood glamour vibes. I love it!
Wet Brush
It's been over a year since I switched my hair brushes to Wet brush. I've used so many brands out there but nothing compares to these beauties.
Oh! And if you don't know, here's a fun fact about me:
I'm OBSESSED with shiny hair and so I love using the Shine Enhancer wet brush. It not just
makes hair detangling easier for my really long hair but also results in less hair breakage and makes my hair so much shinier. Their classic Original Detangler is another of my favourites.
Less hair breakage = Less stress = More self-confidence ♥
Rare El'ements Marula Cocktail
This is a leave-in hair styling treatment for all hair types. Marula cocktail acts as a moisture boosting elixir that protects your hair from heat damage, improves your hair condition by hydrating it and adding a luxurious shine to it. It can be used on dry/ wet hair depending on the type of hair look you're aiming for. This elixir leaves my hair silky smooth, shiny and frizz-free.
Pro Tips:
Use on wet hair to detangle your knotty hair.
Use on dry hair for an effortless beachhead vibes – use your fingers to shape and style your hair.
These hair care products also make great gift ideas for Mother's Day. What else can you ask for?
Have you tried any of these products yet?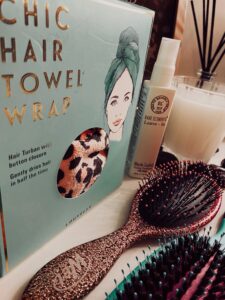 Louvelle and Rare Elements are available at Kalosophie. Use code ARIANAXX for 15% off your order.
Wet Brushes are available at Amazon