Did you know? April is National Face Mask Month!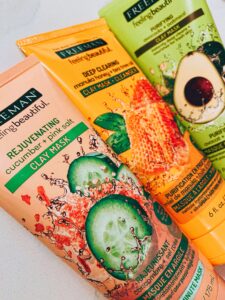 My clay mask addiction is real especially when it comes to Freeman Beauty.
I've been using their clay masks since my teenage years and got super excited to try some of their new product launches.
🥑 Purifying Avocado & Oatmeal – is my absolute favourite and a classic of all times. It helps purge dirt and oils deep from the pores. Skin feels soft and clean. Ideal for normal to combination skin.
🍯 Manuka Honey & Tea Tree Oil – a double action product; it's a clay mask and cleanser in one. It instantly deep cleans and absorbs oil without over-drying your skin. Ideal for oily and acne-prone skin. Note: Don't use if you're allergic to tea tree oil.
🥒 Rejuvenating Cucumber & Pink Salt – helps to exfoliate, detox and clear your skin. Leave on up to 10 minutes and massage gently to exfoliate all the dead skin cells. Suitable for all skin types.
I highly recommend everyone to try this amazing brand – they carry an effective line of products at an amazing value.
Do you have a favourite face mask?
Available at Walmart