~ Skin care inspired by Nature ~
Do you use a specialized eye serum to treat your delicate nerve-packed eye area? If you don't, I highly recommend you should because this is the area where you see the first signs of stress & aging.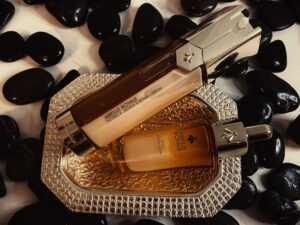 Guerlain is a prestigious brand & a leader in the world of beauty with a history dating back to 190 years. The Abeille Royale skin care collection is known for its expertise and scientific innovation that delivers consistent results; it has scientifically proven the effectiveness of the bee products all while protecting the environment. Even Angelina Jolie is empowering women by caring for bees.
Their latest innovation of the Abeille Royale Eye R Repair Serum is a continuation of the high quality and proven efficacy of the products from Guerlain's Abeille Royale collection.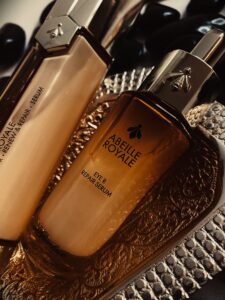 Abeille Royale Eye R Repair Serum
Introducing the new Abeille Royale Eye R Repair Serum that is designed to provide a threefold eye-lifting effect formulated with 94% naturally derived ingredients + the power of honey incorporating the Abeille Royale Black Bee Eye Repair Technology™.
I recently incorporated this cutting-edge luxurious eye serum into my daily eye care routine and I must confess I am obsessed with the highly effective results. This luxe eye-lifting treatment will help enhance the youthfulness of your eyes, treat dark circles, dullness, loss of firmness and uneven texture.
I've noticed a visible difference in a matter of days. My eyes no longer look tired even when I'm lacking sleep. Now that's a pure win-win for me. I highly recommend everyone to try it – to smooth, stimulate and tone the appearance of your eyes & eyebrow area.
Guerlain's exclusive Black Bee Repair Technology – supports the skin's natural revitalization process
Naturally derived polymers- provide a visible lifting effect to the skin
Exclusive anti-aging complex – combines plant extracts for a radiant looking skin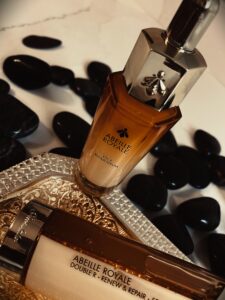 To add, it's not just the formulation that is unique but also the design of the applicator. The Eye R Repair Serum features a Gold Drop applicator that precisely releases an exact amount of this magical potion to lift & enhance the openness of your eyes.
It's also designed to gently massage your sensitive eye area from your brows to under eyes to reduce eye puffiness, treat dark circles and fight any traces of fine lines and wrinkles. The serum texture is lightweight, absorbs quickly into the skin and smells heavenly. I only use one drop per eye to fight all signs of ageing.
Pro Tips:
1) Apply one drop of the eye serum under the outer corner of your eye. Give your eye area a gentle massage by starting from the outer corner to the inner corner and then from inner corner to the outer corner. Repeat a couple times until the serum absorbs into the skin.
2) Keep the serum in the fridge for a cooling effect – to help reduce eye puffiness.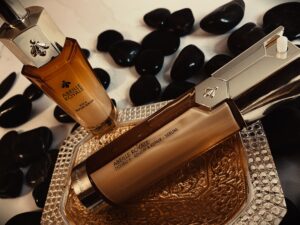 Abeille Royale Double R Serum
Abeille Royale Double R Serum is an anti-aging soft-peel facial serum to effectively treat and diminish visible signs of aging. Thanks to Guerlain's exclusive active ingredients; Royal Jelly & Black Bee honey.
This serum provides a lifting effect, is non-irritating and ideal to use if you experience skin dullness, have uneven texture issues, experience loss of firmness and elasticity and struggle with pores. Think like this – it simply aids in supporting skin's natural renewal process so it looks more smooth, radiant and youthful.
With continuous use, I've noticed my skin feels smooth to the touch, looks radiant, luminous & more even-toned. It provides a firming effect and has helped reduce the appearance of fine lines too. I love it!
Pro Tip:
Use the Double R serum together with the Eye R repair serum for best skin care results.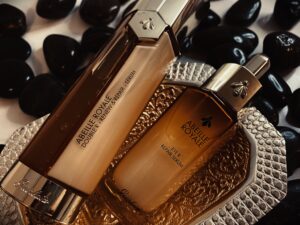 Take advantage of the Sephora sale and try these beauties today!
Use code: OMGSPRING at checkout.