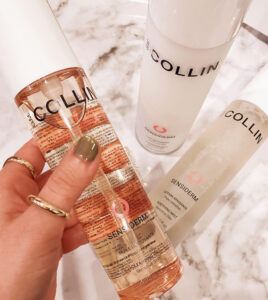 Do you love double cleansing?
Not sure what it means?
Double cleansing as the term describes means washing your face and skin thoroughly with two different cleansers; usually first cleanser is an oil-based which is followed by a water-based one. However, you can use the cleanser types suitable to your skin type to reach the desired effect.
Today I want to share my deep cleansing routine which promotes a thorough cleanse, and allow my skin care products to penetrate more effectively to achieve a revitalized, healthy-looking skin.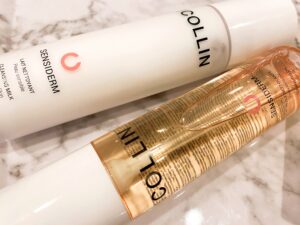 Sensiderm Cleansing Oil
Level up your cleansing routines by using the New Sensiderm Cleansing Oil by G.M Collin. It turns like a milky emulsion as soon as you start massaging your face. Use this to gently dissolve the waterproof makeup from your eyes, face and lips without sacrificing your skin barrier. I like how my skin feels; clean and hydrated.
Sensiderm Cleansing Milk
I then like to follow up my cleansing routine with the Sensiderm Cleansing milk. It has a light milky texture that melts into the skin to get rid of all the impurities, excess sebum and makeup traces without leaving my skin dry or irritated. It's so gentle making it ideal for any skin type. My skin feels super soft.
Sensiderm Soothing Mist
Lastly, I finish off my cleansing routine with this beautiful Sensiderm Soothing Mist. It's one of my favorites for my sensitive skin as it doesn't have any alcohol or fragrance in it. The presence of honey and aloe vera gives a very soothing & hydrating effect to my skin.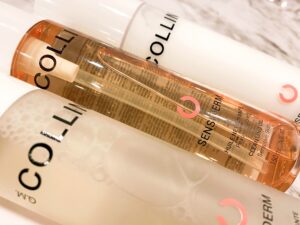 Double cleansing has been a game changer for me and thus, it's the most essential part of my nightly skin care routine. It's important that you stick to a schedule for best results; do it in the morning or at night – depending on your lifestyle & preference.
Also, I suggest you use these three products together for a complete cleansing routine. All products are designed for sensitive skin, and gentle enough to be used by any skin type.
Try it to believe in its goodness! Good luck! 🙂
Available at G.M. Collin