Burt's Bees is undoubtedly one of my favourite natural skin care brands for personal care items including lip balms and hand creams. Today I will be sharing some of the latest technology and innovations from Burt's Bees that have quickly become a part of my daily routine.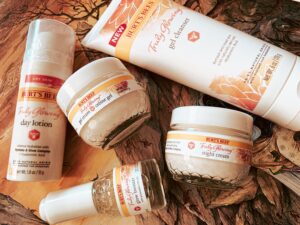 Truly Glowing Collection
This skin care line is especially designed to bring your glow from within to let your light shine. All products are formulated with 100% natural origin and infused with nutrient rich botanicals. You can also customize and create a complete skin care routine based on what your skin requires.
To avoid confusion on skin care layering, I'm listing the products in the correct order in which they should be used; cleanser, glow booster and moisturizer. Following below are some of the products I've incorporated in my morning and night-time skin care routines to achieve a radiant, glowing skin.
Truly Glowing Gel Cleanser – this is the first step in your skin care routine. Start with this gel cleanser to remove any oil, dirt and makeup on your skin. It's fortified with naturally derived hyaluronic acid to leave your skin soft, hydrated and glowy.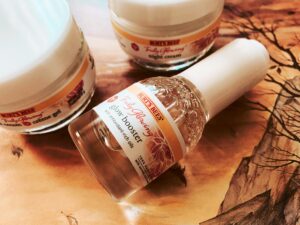 Truly Glowing Glow Booster – is a blend of antioxidant rich oils. It can be used day and night, alone or with other moisturizers to amp up your glow game.
Truly Glowing Gel Cream – contains Hydrate & Glow Complex which is a blend of proteins, humectants and oils. The gel cream feels lightweight yet hydrating on the skin providing it with enough moisture to look plump and radiant. Be ready to rock your bare face! I like using this as my day time moisturizer.
Truly Glowing Day Lotion – instantly hydrate your skin with this day lotion as it's infused with hyaluronic acid and Hydrate & Glow Complex, like the Truly Glowing Gel Cream. This is a great option for those who suffer from dry, patchy skin especially during these winter months.
Truly Glowing Night Cream – is a replenishing night cream which provides your skin with intense nourishment while you sleep so you can wake up to a nicely moisturized, soft, supple and glowing skin.
Now, let's talk about some of Burt's Bees new lip products that I'm in love with:
Squeezy Tinted Lip Balms
Give your lips the desirable tint with the hydration they need. These lip balms are also lightly scented with various fruit flavours; Sweet Peach, Berry Sorbet and Mandarin Granita.
Wild Rose & Berry Lip Butter
Use this lip butter if you want some soft kissable lips. Infused with Shea and Cocoa butters, this formula feels extremely hydrating compared to their other lip products.
Tinted Lip Balms & Moisturizing Lip Balms
The tinted lip balm provides a soft tint to my dry lips while keeping it moisturized for a much longer time. I found the moisturizing lip balms to work exactly the same except that it doesn't have a tint but a light fruity scent. I don't feel the need to re-apply my lip products for a good couple hours when I use these two kinds.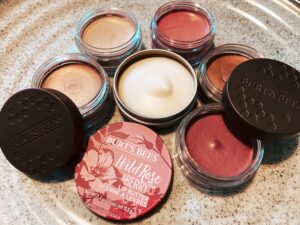 Cream Blushes and Cream Eye Shadows
The formulations for both the cream blushes and eye shadows are luxurious, creamy and richly pigmented. They are soft to the touch and a breeze to apply on the skin. They've definitely become my go-to items as I'm running errands and need a quick & easy application that blends effortlessly with a pop of colour.
What are some of your favourite Burt's Bees products?