~ A Rose speaks of Love silently in a language known only to the Heart ~
Do you love Red Roses?
If your answer is [Yes!], you've landed at the right place! 🙂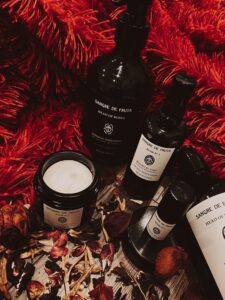 Let me walk you through a beautiful, holistic, botanical world where all products are handmade with love in small batches on Bowen Island, BC with only the finest ingredients that are locally sourced, organic, cruelty-free and water-free formulations.
Talking from personal experience; a rose scent can be very tricky and mind you, not all rose scents are created equal or smell equally amazing. The active botanical ingredients together with the exquisite scent of fresh rose petals, and fine textures is what makes the Sangre de Fruta Rose No.1 skin, hair & body care line so special. It's safe to say that I'm obsessed!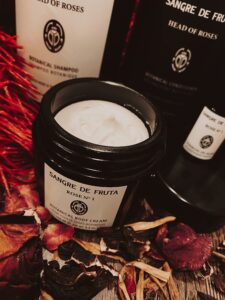 Botanical Body Cream Rose No.1
It's a luxuriously rich body cream infused with Rose Otto oil. The thick whipped texture melts into the skin upon contact, providing instant moisture to extremely dry skin. The soothing rose formulation offers potent balancing properties ideal for even the most sensitive and mature skin.
Pro Tip: Use the roll-on perfume on top of the body cream to make the scent stay longer on your skin.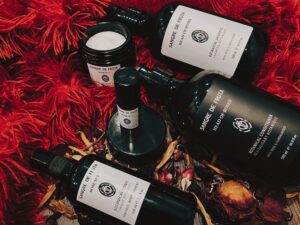 Essential Oil Blend Perfume Rose No. 1
Is a concentrated roll-on perfume infused with Sangre de Fruta's signature scent and botanical essential oil blend offering a therapeutic perfumery experience. The moment you open it, you smell a distinct, unique scent that is simply pure and luxurious. It smells like real roses and I love it! The perfume is solely made with fruit, flowers and plants and is perfect to carry for travel or on-the-go.
Pro Tip: Apply to neck, wrists and temples for therapeutic benefits as well as for scent to last long.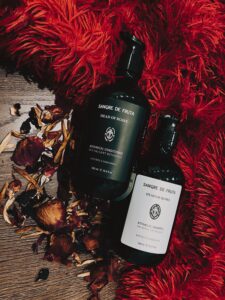 Head of Roses – Botanical Shampoo & Botanical Conditioner
Infused with Rose and Sandalwood scent, this lightweight yet hydrating Botanical Shampoo features nourishing camellia seed oil, soothing calendula and stimulating ginseng root for a perfect hair day. Follow your hair cleansing ritual by paring it with their Botanical Conditioner which is also a lightweight formula but deeply moisturizing due to the presence of active ginkgo biloba, soothing aloe, healing avocado and jojoba oils. This cleansing duo smells absolutely amazing like the rest of their products.
Interestingly, the botanical shampoo and botanical conditioner also contains crystal-infused glacier water together with 100% plant-based and organic ingredients that are biodegradable and ocean-friendly. They're also free of sulphates, parabens, DEA and Glycols. What's not to like?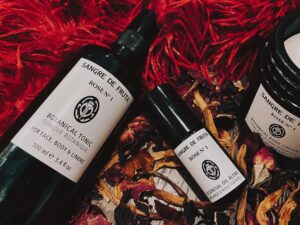 Botanical Tonic Rose No.1
Designed for face, body and linens, this botanical tonic is made with the finest essential oils to bring a sense of wellbeing to your skin, body and spirit. The essential oils have been carefully chosen for their therapeutic aromatherapy properties, their sensual fragrance, and their beautifying effect on the skin. Whether gently misting your face, linens, or your lover, Sangre de Fruta Botanical Tonic offers an emotive pause for a kaleidoscope of moments.
Trust your beauty and take time to smell the roses. The exquisite & sensual rose scent is always inviting…
So.. Are you ready to spoil yourself or a loved one?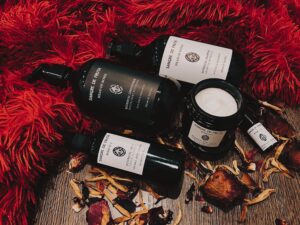 Available for purchase at Kalosophie
Use my code ARIANAXX for 15% off sitewide.