Following the success of Boosting & Masking concepts, 111SKIN is proud to launch Concentrates.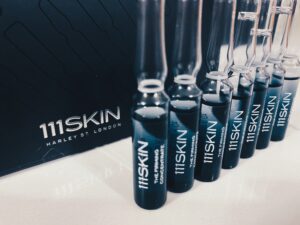 The New Concentrates from 111SKIN are clinical strength solutions that can be used from the comfort of your homes to treat a range of 5 targeted skin conditions:
The Y Theorem Concentrate – for compromised, inflamed and malnourished skin
The Firming Concentrate – for lax, deflated and ageing skin
The Hydration Concentrate – for dry, dehydrated and fragile skin
The Radiance Concentrate – for dull, lackluster and textured skin
The Clarity Concentrate – for blemished, congested and oily skin
Created by Dr. Yannis, the concentrates come in a 7-day program that offers clinical level procedures at home. Housed in a sealed glass that prevents oxidation or degradation of formula, the ampoules epitomise the precision skincare philosophy of 111SKIN.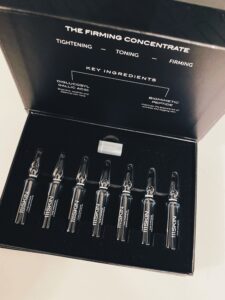 The Firming Concentrate
I decided to go with the 7-day firming treatment (Option #2 on the list above) as I live a hectic lifestyle – always on my toes, living a good-busy-life and my skin was starting to show signs of premature ageing. I'll blame the Covid to some extend for added stress that accelerates skin ageing.
With a blend of active ingredients, these ampoules are designed to tighten, lift, firm and contour the skin which in turn helps increase in viscoelasticity and skin firmness. The Firming Concentrates also contain brightening ingredients that are excellent for those suffering from hormonal pigmentation and is safe to be used for preventative pregnancy pigmentation. It also contains a powerful peptide complex to encourage collagen synthesis.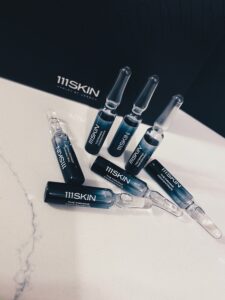 Key Ingredients:
Biomimetic Peptide: Improves the appearance of wrinkles and sagging skin.
Diglucosyl Gallic Acid: Brightens, soothes and balances skin tone.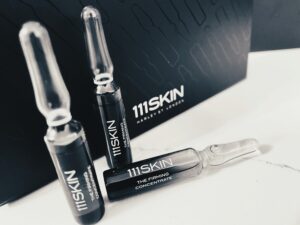 My Experience:
After 7 days of use, I've noticed a visible difference in the appearance of my fine lines – they're hardly noticeable. My skin looks firm, bright and more even-toned. My skin feels youthful and I couldn't be happier. I highly recommend these firming concentrates for anyone starting to show signs of ageing; fine lines, wrinkles, loss of elasticity and pigmentation. I definitely can't wait to try other concentrates from 111SKIN's beautiful collection to treat my other skin concerns.
Pro Tip: Use one ampoule every day or night for 7 days – ideally alongside your 111SKIN regimen for best results. These ampoules can be also be used independently or combined with other collections over a two, three, or four week period.
All products are Parabens, Sulphates, Phtalates, Silicone, Mineral Oil, Colourant, Fragrance & Cruelty Free.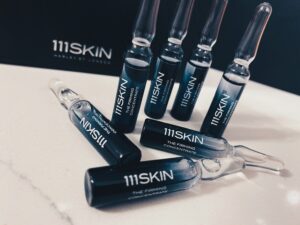 111Skin is available for purchase at:
Skinstore.com. Use Code: ARIANA10 at checkout for extra 10% off 111SKIN