Today I want to share Marina Miracle's natural, organic and vegan skincare gems from Norway which I discovered lately, and in love. Below you can find my full face routine incorporating some of their beautiful products specific to my combination, dry, acne-prone skin.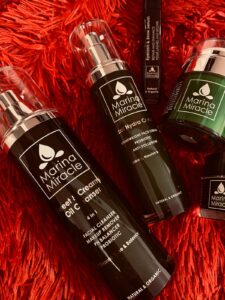 Sweet & Creamy Oil Cleanser
It's a creamy 4 in 1 oil cleanser that can be used as a facial cleanser, make-up remover, PH balancer and also supports a healthy skin microbiome. It has a lovely scent of vanilla and coconut and contains probiotic fermented juice from broccoli, alfalfa and tomatoes that are rich in enzymes, antioxidants and vitamins that nourish the skin without drying it.
Acai Hydra Cream
This lightweight textured probiotic face cream can be used over face oil for extra moisture, nourishment and protection against pollution. The cream has a lovely, subtle pink color, a light scent of fresh berries and a velvet soft feeling that absorbs quickly into the skin, leaving you with soft supple skin.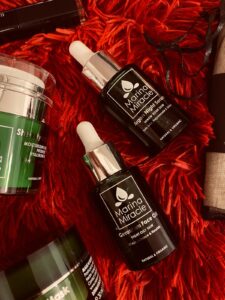 Geranium Face Oil
A facial oil for oily and acne-prone skin. It's lightweight and absorbs quickly to balance the skin. The unique herbs nourishes the skin so that wounds heal faster and visibility of scars are reduced. Overproduction of oil declines, skin is mattified and left balanced and clear.
Argan Night Serum
Infused with AHA fruit acids, apricot, almond, argan and evening primrose that exfoliates, provides deep hydration and tones the skin. Perfect serum to get that glowy skin while fighting skin tiredness.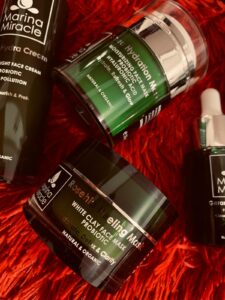 Shea Hydration Mask
Use this as your ultimate hydration mask. It has a lovely scent of fresh apples and flowers. The mask gives the skin plenty of active nutrients from probiotic fermented aloe vera, oats and green tea. It helps smooth out fine lines & plumps the skin, soothes irritated & sensitive skin, and provides deep moisture and a wonderful healthy glow. Great to use for winter dry skin.
Rosehip Peeling Mask
A deep cleansing, detox clay mask which gives the feeling of spa and wellness. This luxurious mask has a soothing, gentle scent of lavender and coconut. It's abundant with antioxidants, vitamins, white clay and enzymes to remove dead skin cells so your skin feels smooth and radiant.
Eyelash & Brow Serum
This transparent/white colored serum contains high quality oil from argan, almond and castor to nourish lashes and brows. It stimulates hair growth for stronger and fuller eyelashes and brows in a natural way.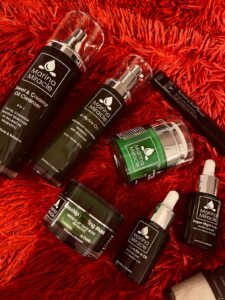 Be sure to pick a skincare package based on your skin type.
Available at Marina Miracle