Be ready to say hello to a beautiful, healthy skin – even in Winters!
It's been a couple weeks now that I'm using my very own personalized skin care routine which I created myself, to address some of my stubborn skin concerns. 111SKIN is a brand close to my heart and today, I'm sharing some of my personalized epic picks featuring Vitamin C Brightening Cleanser, Hydrolat Anti-Blemish Tonic and Nocturnal Eclipse Recovery Cream NAC Y2 from the 111SKIN line.
So, let's begin..
Cleansing, as simple it may sound, is your foundational first step of your personalized skincare routine. You need to make it right depending on your skin needs; whether you want more hydration, exfoliation, or balancing oil production, etc.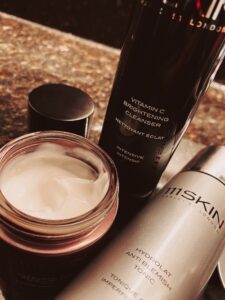 Vitamin C Brightening Cleanser
Hands down one of the best and powerful cleansers I've tried. It deep cleans while treating imperfections – exactly what I was looking for in my facial cleanser.
It gently exfoliates, brightens and promotes collagen in the skin. I have acne-prone skin and have been struggling with acne around the chin area since the pandemic so I noticed a visible reduction in post-inflammatory hyperpigmentation, dark spots, and my skin redness has been minimal and calm. I'm so glad I gave this cleanser a try, I couldn't be happier. Highly recommend.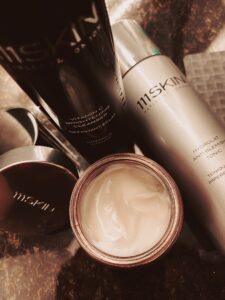 Hydrolat Anti-Blemish Tonic
I tested this toner while I was on vacation and wearing my face mask almost the entire day. Usually, when that happens, I know acne disaster waiting for me in the coming days (which I was mentally prepared for). Not going to lie and say I had no breakouts at all but I was pleasantly surprised to see a minimum amount of breakouts which healed in no time. I feel this is a keeper for anyone struggling with constant breakouts, acne or maskne.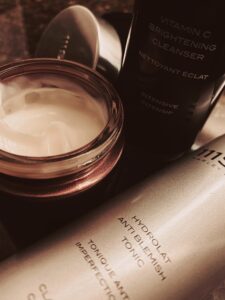 Nocturnal Eclipse Recovery Cream NAC Y2
Given all the damage your skin may be going through, this anti-aging cream acts as a cushion to repair, hydrate and assist the skin to repair. Infused with 111SKIN's NAC Y2 technology, it creates the optimum environment in the skin to help produce collagen and elastin. I like to use this rich cream at night to seal all the great benefits. It's ideal for dry, damaged and dehydrated skin, especially during our winter months.
I also like to follow this skin routine in conjunction with my 111SKIN Liquid Masks for best results. Click here to learn more about these special masking treatments.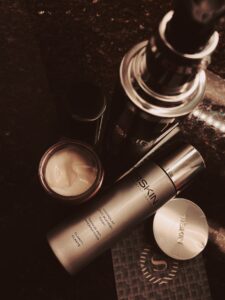 Available at Beautymark Solutions Inc.
Kalosophie: Use my code: Arianaxx for a discount.