It's almost the Holiday season and John Varvatos fragrances make the perfect gift idea for the special men in your life + it's a great treat for yourself too if you're looking to try new fragrances. Each perfume is unique and one of a kind.
Keep reading for more details on each…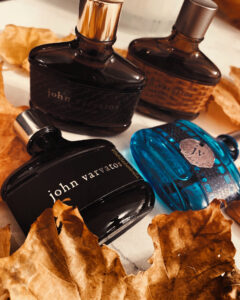 John Varvatos by John Varvatos for Men
John Varvatos by John Varvatos is an Amber Woody fragrance for men. John Varvatos was launched in 2004. The nose behind this fragrance is Rodrigo Flores-Roux. Modern, bold and sophisticated. John Varvatos Classic Fragrance is infused with a relaxed, sensuous feeling. As elegant and masculine as it is intriguing, its subtle power conveys the attention to detail so clearly present in every John Varvatos creation. The experience of aromas includes a crisp, masculine introduction, rugged and rich heart notes, and a background of woody leather undertones with malt, balsamic, amber and hints of vanilla extract.
John Varvatos Fragrance Notes
Top Notes: Medjool, Date Fruit, Mediterranean Herbs, West Indian Tamarind Tree Leaves
Heart Notes: Coriander Seed Templar, Clary Sage Flower, Indian Ajowan
Base notes: Auramber, Vanilla CO2, Balsams, Eaglewood, Vanilla, Black Leather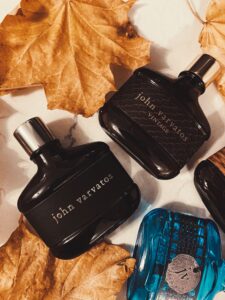 Vintage John Varvatos for Men
Vintage by John Varvatos is a Woody Chypre fragrance for men. Vintage was launched in 2006. The nose behind this fragrance is Rodrigo Flores-Roux. Vintage is a sensuous and masculine composition of the aromatic chypre family with an assertive spice core and a warm leathery background that makes it unique and refined. This fragrance is distinct with a rugged authenticity and enduring appeal. It comes in an amber colored glass bottle with a sleek python band and a defined rose champagne colored cap.
Vintage Fragrance Notes
Top Notes: Santolina, Juniper berry, White lavender
Heart Notes: Patchouli, Fir balsam, Jasmine
Base notes: Tonka bean, Tobacco, Suede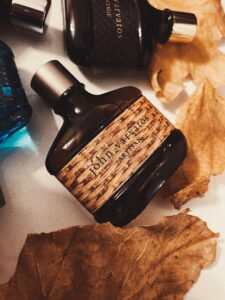 Artisan John Varvatos for Men
Artisan by John Varvatos is a Citrus Aromatic fragrance for men. After vintage concept of its antecedent the third masculine fragrance, Artisan, was presented on the market in March 2009. It is constructed as a citrusy-herbal fragrance which announces spring and fresh air created by John Varvatos and Rodrigo Flores-Roux.
Artisan Fragrance Notes
Top Notes: Sicilian clementine, Tangelo, Mandarin, Wild thyme, Spanish marjoram, Greek lavandin
Heart Notes: Orange blossom, Indian murraya, Ginger extract
Base notes: Kephalis, Georgywood, Amber, Musk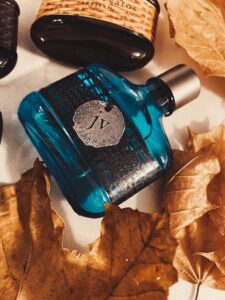 Artisan Blu John Varvatos for Men
Plunge headlong into an azure sea. John Varvatos Artisan Blu was launched in 2016 and is the ultimate embodiment of crystal blue waters under the warmth of the sun. This aromatic citrus fragrance exhales an elegant and refreshing personality, evoking visions of a saturated, vibrant seaside lost in the Mediterranean summer.
Artisan Blu Fragrance Notes
Top Notes: Bergamot, Lavender, Chayote, Basil, Bitter orange
Heart Notes: Geranium, Palmarosa, Iris, Orange blossom, Clary sage
Base notes: Patchouli, Cedarwood, Parasol pine, Tamarisk, Pistachio tree resin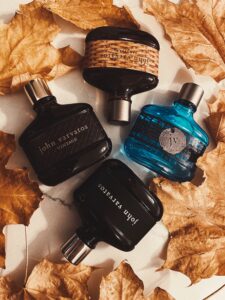 Which one of these is calling your name?