When I speak of U Beauty, obsessed is an understatement! 🤍
Introducing the new BARRIER Bioactive Treatment by U Beauty!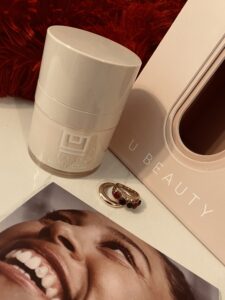 This luxurious velvety cream is deeply moisturizing yet feels extremely lightweight on the skin. Think of it as a highly concentrated, restorative overnight treatment with cutting edge technology to rebuild your skin's barrier function.
It uses bioactive marine ingredients that work with Siren Capsule Technology to optimize normal skin renewal to deliver visibly softer, stronger skin with improved-looking vibrancy and resilience. Visible skin enhancement and renewal are expedited—in essence, skin is reborn.
Key Ingredients:
Urea for suppleness
Vitamin B6 to smooth skin texture
Shea Butter for moisture defense
Hyaluronic Acid to plump
AHAs to boost cell renewal
With U Beauty, you don't need any complicated 13-step skincare routine to feel and look your best. Simply apply this beauty generously as the last step of your routine, 2-3 nights per week. After each week, expect to see smoother, youth-looking skin with boosted vibrancy and resilience.
If you have dull, rough or textured skin, you'll notice an improvement with continuous use and a glowing skin upon waking up. It's also suitable for sensitive, inflamed skin. My skin feels fresh, glowy & irresistibly soft to the touch; I love it and can't recommend enough.
📝 Pro Tip: Use it as a sleeping mask when your skin needs a boost of hydration. It's incredible!
Available at U Beauty