I'm thrilled to announce Live Clean's new launches featuring Revitalizing Cannabis Sativa Seed Oil Hair and Body Collection.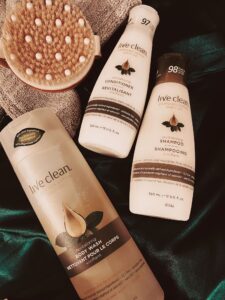 Level up your shower routine with these deeply nourishing and moisturizing, eco-conscious shampoo, conditioner and body wash. First of all, I wish you could smell how ahhmazing these all smell.. ahh love it! Cannabis Sativa Seed Oil not just provides hydrating and conditioning benefits but also contains anti-inflammatory properties that soothe irritated skin.
I'm a fan of Live Clean products and these new launches are no exception. All products are pure vegan, made with 97% natural, plant-derived ingredients, cruelty-free and come in recyclable packaging. This new line is also formulated with Certified Organic Aloe Vera, Birch Leaf and Ginseng extracts. The combination of these star ingredients work their magic by offering hair & body care benefits from brightening and moisturizing, to protecting from damage.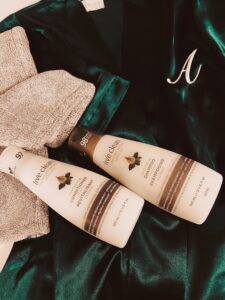 Revitalizing Shampoo and Conditioner
The Revitalizing Shampoo and Conditioner leave my hair super soft and shiny. The infusion of Cannabis Sativa Seed Oil in hair care products not just targets hair dullness but also helps to calm the scalp by providing nourishment from root to tip so your hair feels healthier and stronger overtime with continuous use. Use this hair care duo to wash away dirt without weighing down your hair.
Key Ingredients:
Aloe Vera Extract – Contains a mixture of vitamins and proteins that leave hair moisturized, glossy and voluminous.
Birch Leaf Extract – Strengthens hair while simultaneously protecting it from damage.
Ginseng Extract – Enhances protein synthesis and improves blood flow to the scalp, helping strengthen and volumize hair.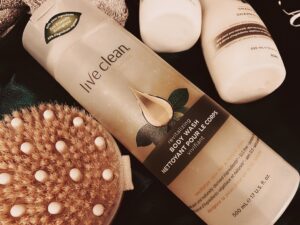 Revitalizing Body Wash
The Revitalizing body wash leaves my skin smooth and soft to the touch. It's suitable for all skin types and ideal for dry skin as it helps restore moisture so your skin feels smooth and moisturized.
Key Ingredients:
Aloe Vera Extract – Provides anti-inflammatory, anti-microbial, antioxidant and soothing properties. Suitable for all skin types.
Birch Leaf Extract – Provides anti-inflammatory and anti-bacterial properties that help keep skin healthy.
Ginseng Extract – Contains antioxidants that rejuvenate, brighten, and tone. Also, helps balance skin's natural oils. Suitable for all skin types.
So.. Are you ready to give yourself or a loved one a treat of deep nourishment?
Available at your local Shoppers Drug Mart, Walmart and Amazon.ca