I feel honoured to be celebrating World Bee Day & participating in this noble cause with Guerlain taking place from May 20-22 together with the launch of their two New Aqua Allegoria fragrances: Flora Salvaggia & Nettare Di Sole.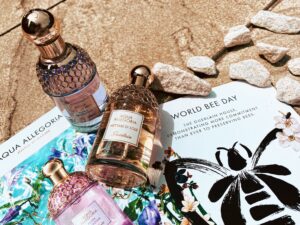 Guerlain is holding a global fundraiser with the goal to raise 1M Euros to help protect bees through Guerlain for Bees Conservation Programme. Join me! I encourage you all to participate in this great cause; check out my Instagram reel for more details.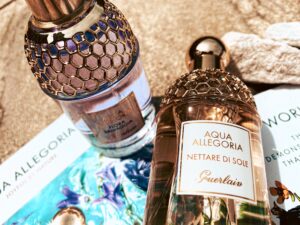 Guerlain is a luxury sustainable beauty brand and their new youthful Aqua Allegoria fragrances are designed in honour of bees and inspired by the wildflowers that bees love and the honey they produce.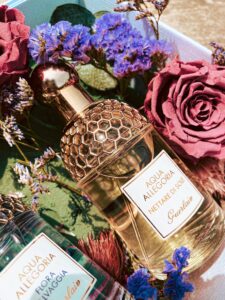 Nettare Di Sole
A fresh citrus and floral sun-kissed scent that I find easy to layer with my other Aqua Allegoria fragrances. This light, unique and sophisticated Eau de Toilette features a delicious icy floral honey aroma. In other words, a fresh aquatic facet adds a surprising touch to this deliciously beautiful white flowers honey illuminated by Calabrian bergamot.
If you're looking for a new and fresh spring/ summer perfume, Nettare Di Sole will make a perfect addition.
Fragrance Family: Fresh
Scent Type: Fresh Citrus & Florals
Key Notes: Aquatic Notes, Magnolia, Floral Honey Accord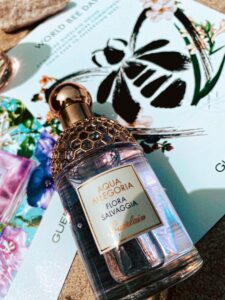 Flora Salvaggia
Another beautiful fresh floral scent that is also layerable. A revitalizing watermelon note refreshes a wildflower accord whose poetry is tinged with powdery iris and violet facets and illuminated by an armful of white flowers. The first spritz smells like a wildflower bouquet that I love. I feel this fragrance is more on the floral side compared to the other Aqua Allegoria fragrances in their collection.
It's also perfect to wear in spring and summer; the murmur of tall grass, spin amidst wildflowers and feel the beating heart of raw nature.
Fragrance Family: Fresh
Scent Type: Fresh Florals
Key Notes: Watermelon, Jasmine, Wildflower Accord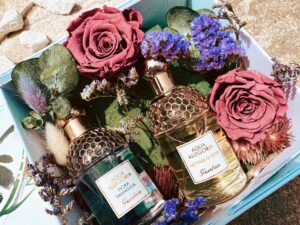 Both scents are light and aren't overpowering which makes them ideal for people with sensitive noses.
Available at Guerlain and Sephora