Feeling extremely proud & honoured to share this BIG news!
Its official – Elva's All Naturals' GLOW. Brightening Facial Toner with Bioflavonoids has been announced the 1st Place Winner in the facial toner/mist category, in CertClean's 7th annual Clean Beauty Awards. 🎉
But… the goodness doesn't stop there. We also have Elva's Ethereal GLOW. Facial Oil to receive the honour of Top 10 Finalist. ✨
For those who don't know, Elva's All Naturals is one of my favourite local Canadian family businesses. I personally love using their complete GLOW. Botanical Skincare System as a full routine for an all-year long glowing skin. These high-quality botanical skincare products are suitable for all skin types and formulated with pure natural ingredients without harmful toxins – good for people & our planet.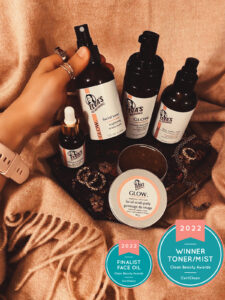 I'm so obsessed and highly recommend you try it to experience the pure, rich nature in their formulations that will please your senses, alleviate your mood while making your skin feel deep clean and refreshing (see discount code below).
With continuous use, you'll notice this full routine (when used both am/pm) helps to balance skin, clears acne/breakouts/blemishes, controls sebum production, brightens skin, promotes radiant, youthful & glowing skin.
Learn more about each product together with some amazing beauty expert tips below.
Brightening Facial Toner with Bioflavonoids: this 1st place award-wining, alcohol-free facial toner is my top favourite to achieve a fresh, radiant and glowy complexion at your fingertips. The best part, it's a 3-in-1 product – you can use it as a toner, a makeup setting spray or on-the-go skin refresher. I've seen great results for my combination, acne-prone skin as it helps fight blemishes & gives me a healthy everyday glow.
Pro Tip: It makes one of the best makeup setting sprays. Use it on top of your makeup for a bright, hydrated and dewy glow makeup look.
Ethereal GLOW. Facial Oil: a proprietary blend of 18 botanical oils which received the honour of Top 10 finalist, is specifically designed to improve skin tone, boost natural collagen production, support cellular regeneration, skin firmness, elasticity, texture and overall healthy radiance. It absorbs nicely into the skin, feels very hydrating & nourishing. Overtime, my skin looks more radiant and youthful.
Pro Tip: You can use up to 1 full dropper at night time as a restorative oil mask for added benefits and a healthy glow in the morning.
Pillowy Foaming Face Wash: this liquid-to-foam cleanser feels like a soft, cloud-like gentle foam. Its pH balanced to soothe, moisturize, tighten pores and remove all the dirt without sacrificing your skin's natural barrier. It also has a nice botanical scent to uplift your mood.
Pro Tip: I find it work wonders when used together with the facial toner to combat and clear acne flare-ups.
3-in-1 for Eyes, Lashes, Face: a must multi-purpose product; very gentle, 100% natural & oil based. It effectively removes your stubborn waterproof makeup from eyes and face while encouraging eyelash growth. And… if you're like me and love double cleansing – this can be your next favorite oil facial cleanser, trust me!
Pro Tip: Use together with the reusable bamboo makeup remover pads for best results. (Sold separately).
Brightening Facial Scrub Putty: made with brown sugar, organic honey & papaya enzymes. Say hello to baby soft skin! This gentle scrub helps to brighten dull complexion. It can be used on face & lips to improve skin texture and suppleness.
Pro Tip: Use up to 3 times a week to brighten, polish, exfoliate and soften your skin.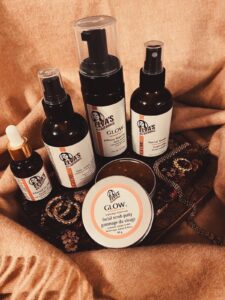 If your skin is looking dull & need some TLC, you'll see great results once you incorporate the complete GLOW. line as part of your daily skincare routine.
Don't just take my word, try it and see the difference yourself!
Use my discount code ARIANAGLOW15 for 15% off any skincare purchase at Elva's All Naturals.
All products are CertClean Certified, Paraben Free, SLS Free, Sulfate Free, Chemical Free, All Natural, Cruelty Free and Vegan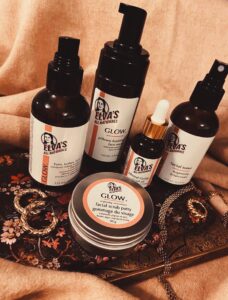 For more beauty tips & content; follow me on my Instagram page @thetiltedumbrella
Happy Shopping! 🙂