I believe in the power of simplistic yet effective skincare.
I love the concept behind this newly launched Canadian beauty brand that carries botanically-rich skincare and tinted foundations. Their products contain potent ingredients that deliver to the deepest layers of skin instead of sitting on top surface.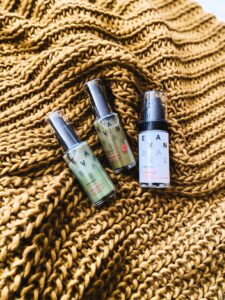 I've been really enjoying the cell regenerating qualities infused in their Ethereal Regenerating Day & Night Serums. Serum has a gel like texture which feels light, absorbs easily and layering other products is a breeze. There's a natural plant-based scent to it; think green, algae like scent.
It's a perfect duo to help minimize the look of fine lines, hyper pigmentation and to brighten your complexion so it looks more even. These serums will gently exfoliate your skin for a fresh, radiant & youthful look.
You only need 1-2 pumps for the entire face and neck as the formulations are pretty strong and little goes a long way. I have sensitive skin so I found it beneficial to start slow and gradually work my way up once my skin was more comfortable with the powerful formulations. As always – I recommend you do a patch test first. Don't forget to wear your sunscreen following the use of these two serums.
Ethereal All Natural Foundation is a light coverage (yet buildable) foundation with a nice damask rose scent to it. I love how light it feels on my skin as if I'm not wearing anything. It does an excellent job to blur imperfections, to enhance skin tone so your skin looks more radiant and even toned.
It also contains active skincare ingredients that not just enhance collagen production but visibly improves skin elasticity. Cover & treat in one product – now that's a big plus for me!
Pro tip: Get into the habit of using serums after the age of 25 to support and boost your skin cell turnover.
All products are free of toxic ingredients, fillers, fragrances, synthetic preservatives and are cruelty-free.
Know Yourself. Know Evan Beau.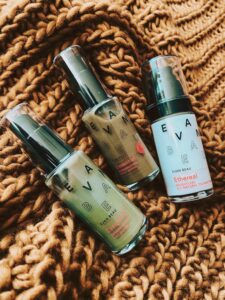 Evan Beau Cosmetics is exclusively available at Kalosophie.
Use my code ARIANAXX at checkout, for a discount.