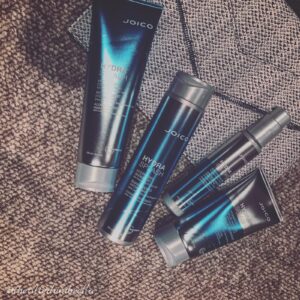 Keeping your skin hydrated is so much easier than your hair [I feel]. Ever since I've colored my virgin hair, it's been extra dry. Luckily, I tried Joico's NEW HydraSplash collection. It makes my hair very smooth and soft to the touch without weighing it down.
Also, my hair is naturally curly so it's more prone to dryness and frizz but after using all four products from the HydraSplash collection: HydraSplash Hydrating Shampoo, HydraSplash Hydrating Conditioner, HydraSplash Hydrating Gelee Masque, and HydraSplash Replenishing Leave-In, my hair looks noticeably less frizzy. Hydrated hair is happy hair!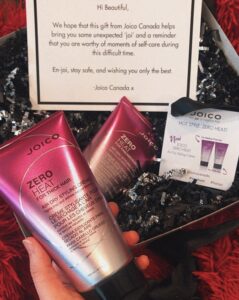 Now, let's talk about styling your hair naturally!
When it comes to my hair, I like to have a perfectionist look. Needless to say, I'm addicted to heat styling! But.. the good news is that I've been using this quarantine time very wisely to experiment with no-heat styling techniques.
Joico's Zero Heat has been a great life saver to give me that polished look without sacrificing my hair health. It speeds up air drying time, enhances my natural hair texture by activating my curls while keeping the frizz in control; all without leaving a sticky residue or weighing down my hair.
The air dry styling creme comes in two personalized formulas: thick hair and fine/medium hair. For best results, be sure to choose a formula according to your hair type.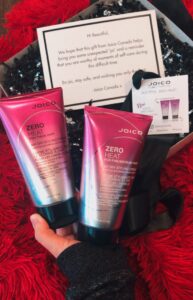 How do you keep your hair hydrated? And.. are you giving your hair a much needed break from heat styling?
P.S. Love the beautiful note from Joico ♥ Inspire & Be Inspired!