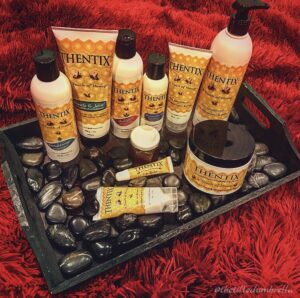 Thentix is a Canadian brand that carries products for the entire family! Their products are designed with a touch of honey to help plump skin, retain moisture while providing anti-aging properties to dry, itchy skin. They're cruelty-free and made with natural ingredients, which are perfectly designed for sensitive skin individuals. Here's more detail on each product:
🐝 Morocco Hair oil: This Argan oil is my absolute favourite! It instantly makes my hair soft, shiny, frizz-free, doesn't leave any greasy feels and smells amazing. Mr. Husband likes to use it as a #beardoil to moisturize his long-grown "quarantined beard". Win-win.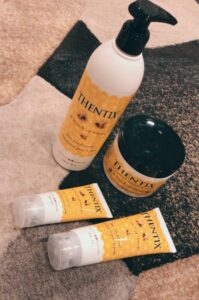 🐝 Skin Conditioners: It's unscented hand and body lotion, made with honey, ginseng, aloe, royal jelly and jojoba. They come in various sizes and different packaging so you can pick according to your preference. The biggest size comes in a pump bottle (12 oz family size) while the smallest comes in a tube (2 oz) which is perfect to carry in your diaper bag. I like using this conditioner on my toddler who suffers from eczema-prone skin and as a body moisturizer for myself.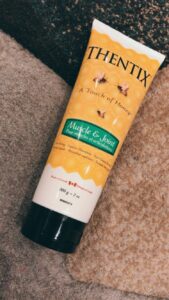 🐝 Muscle and Joint: It's a fasting acting, non-greasy pain relief formula that absorbs immediately into your skin. It helps with mild pains like back aches or muscle sprains. I like that it's unscented and doesn't stain your clothes.
🐝 Hair Shampoo & Hair Conditioner: Both products are coconut based designed for oily/dry hair sufferers. They includes 99% plant based ingredients and are sulphate free. It does a great job of nourishing + conditioning my hair, making it very soft and smooth to the touch and less frizzy in appearance.
🐝 Lip Balm: This moisturizing formula is made with honey, beeswax and Shea butter. My lips feel very soft and hydrated after I use this as an overnight lip treatment. Smells yummy! 🍯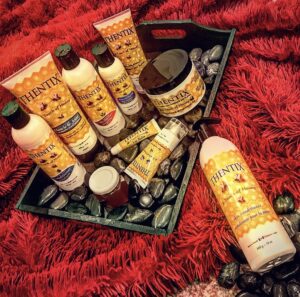 Available for purchase at Thentix