My very first discovery box from Bazzaal, and I can't contain my excitement. All products featured here are picked my beauty influencers – how exciting! 🤩 More details on each product below: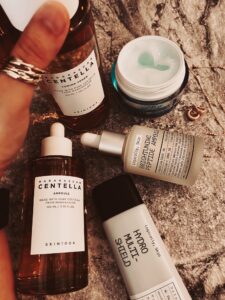 ~ Skin1004 Madagascar Centella Toning Toner – a gentle, non-irritating PHA toner that is suitable for sensitive & acne-prone skin. It helps exfoliate your dead skin cells while prepping your skin for next skincare steps.
~ Skin1004 Madagascar Centella Ampoule – excellent to repair skin barrier, soothes blemishes and helps with dark spots & hyperpigmentation for sensitive, acne-prone skin. The texture is lightweight and easy to layer.
~ Jumiso Waterfull Hyaluronic Cream – very light, water-light texture that easily absorbs into the skin to treat dry skin. Can be used day & night.
~ Logically, Skin Skin Brightening Peptide Ampoule – this anti-aging ampoule helps to reduce dark spots & boosts radiance. Great for those with uneven skin tone caused by UV exposure, post-acne marks & hyperpigmentation.
~ Logically, Skin Skin Hydro Multi Shield SPF30 – great option for your daily sunscreen with skin brightening qualities. It doesn't feel heavy on the skin and leaves no white-cast.
~ Jewellery by Monica Vinader
✨Exclusive Labor Day boosted 25% off code: INSIDERLD-B2B4
✨ After Labor Day, use code: US20RAFINSIDER-8475 for 20% off your order
Follow me on Instagram @thetiltedumbrella for all things beauty & lifestyle 💃🏻.
Bazaal box products are available at Amazon and StyleKorean.